The impact of comic book based movies on the back issue comic market is undeniable, but is it also quantifiable?
In the case of the first comic book appearance of Harley Quinn, the number of CGC submissions for Batman Adventures #12 (1993) is shown on the chart below by the take of the CGC census.  Though most CGC census updates were weekly, beginning around 2013, there were cases where the census may not have been updated one week and the next week may actually be the counts for two weeks, such as the gap visible just before January 2016.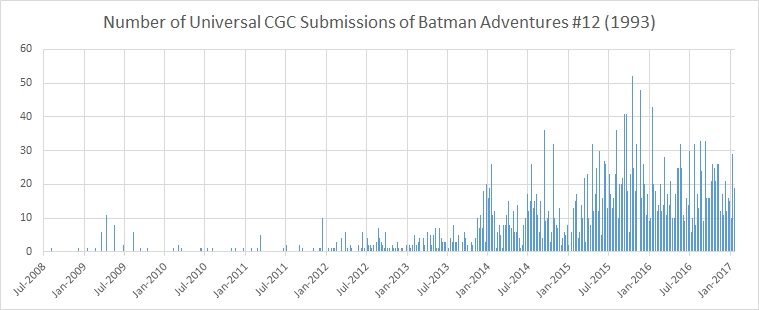 The Suicide Squad (2016) was announced with a director in September 2014 and casting in October 2014.  The number of CGC submissions spikes initially in late-2013, and increases significantly beginning in early 2015.  The dates reflected are the CGC census updates, so it can be assumed that the books were submitted 4 to 8 weeks prior to being recorded on the census after grading, coinciding with the September-October 2014 announcements.